EARL GREY 1.0.1 Released !
---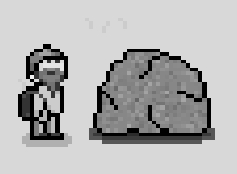 I have released an updated version of the game. It is just some of the initial bugs, issues and minor enhancements I received feedback around. The new version does not have any large enhancements to the game. Here is a list of all the items I addressed:
Resolved some Never-Ending Cool-Downs to resolve some slowness for some users
Resolved the Player being able to shoot when the Cabin Menu was open
Resolved Player/Enemy Collision issues that caused the player to get stuck in the enemy
Resolved issue with Cabin Menu when the Pause Menu was open
Updated Deer to Run when the player gets too close or if the deer is shot
Updated the amount of berry and herb bushes in the world
Minor world updates (Minor Tile and Object Changing)
Added (5) Ammo to Crates
Deer are harder to kill
Deer now Drop (4) Meat instead of (2)
I really do appreciate all the feedback I received on this game. Thanks you all so much who have played so far. The indie game community is proving to be my favorite community out there!

Life is Short = Be Creative