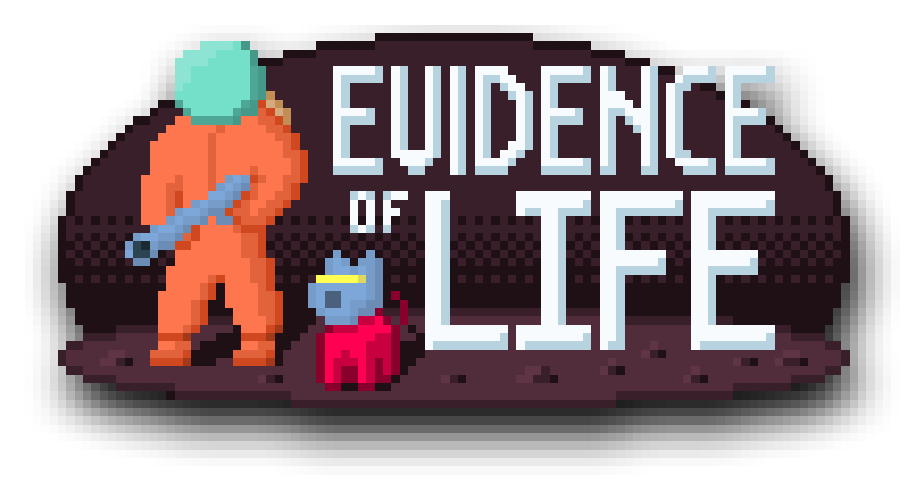 EVIDENCE OF LIFE v1.2
Release Notes - Version 1.2
---
It is with great Pride that I announce the update to Evidence of Life. Below are all the Great Features and Bugs Fixes we released in Version 1.2.
Enhancements:
Added Parallax Backgrounds
Added Cave Foliage (Gives Player Health if Destroyed)
Minor Sound Effects Optimization
Increased Difficulty each planet
Mite and Bird Sound Effect Adjustments (Attempting Less Annoyance)
Updated Caves (Easier to Find - Harder to win)
Giant Aliens Now Randomly Spawn Face Eaters
Added Additional Gun Types (Switch with 1,2,3 Keys or Mouse Wheel)

Single (Normal Gun - Normal Speed)
Double (Shoots 2 Bullets - Uses slightly more Energy - Medium Speed)
Triple (Shoots 3 Bullets - Uses more Energy - Slow Speed)

Updated the Main Menu
Updated the Start/New Planet Menus
Added 12 Additional Ground Mite Sprites
Added Random Cyber Dog Fly-by Assistance (Shoots Sonic Booms - Drops Green Dust, a Single Bomb and a Single Battery)
Added Dangerous Mushrooms (3 Types)

Depletes Energy
Depletes Health
Slows Player Down for a Period of Time

Updated Random Generated Planet Colors (No more super dark green)
Updated the Player Menu (Menu with Gem Levels)
Added 3 Missions per Planet

Missions Now Appear on the Player Menu and once completed they receive a shiny ICON! Complete them all For a Superb Prize

Added 4 Mega Giant Aliens (MGAs) to the game.

You get one chance per planet to beat the Boss.
Each Level of Boss get Harder. 4 Bosses in Total.
Bosses Now Appear on the Player Menu and once completed they receive a shiny ICON! Complete them all For a Superb Prize

Added 5 Hidden Items to Find for your Cyberpup. If you find all 5 you get a reward at your ship. Resets per planet.
Updated the Player Color Selection Options. Now you can choose from 9 colors. Changing your player's color now also changes the Cyberpup color too.
Added Darkness when the player goes lower underground
Added 8 Additional Egg Sprites (Random Gen Per Planet Type)
Added minimal magnet effect to Gems for easier collection
Added Sound when Traveling to a New Planet
Added Art when Traveling to a New Planet
Added "Fail" text if you fail to beat the Planet MGA
Added a New Loading Screen Image
Added a Sound when Energy Regeneration Happens
Bugs:
Resolved an Exploit with the JetPack where you could fly without using Energy
Added Collision to the Mining Tool on the Hive Cores
Resolved an Issue where the Player Walk Animation would not play if Energy was depleted
Resolved an Issue where Notification sound would not play when player attempted to travel back to the ship when too close to a hive.
Resolved an Issue where Medium Sized Eggs were falling too far if the block below them was broken.
Resolved a Bug where 2 players were spawning at once. This isn't the movie Twins!
Adjusted Screen Resolution to Resolve Stretching (Thanks Alan)
Energy starts to regenerate sooner now
Resolved a Bug where the MGA was not spawning if the player died on the planet
Thank you to all who have followed this game on it's journey so far.
Life is Short = Be Creative
Files
Evidence of Life 1.2.zip
12 MB
Apr 03, 2019
Get EVIDENCE OF LIFE v1.2